HIGH SPEED PROCESSING
Michelangelo FT is a 5-axis gantry machining center with mobile beam designed for high-speed machining of composite materials and light al-loys. FT is the ideal solution for trimming plastic and composite materials, which thanks to its technical characteristics ensure high productivity and production quality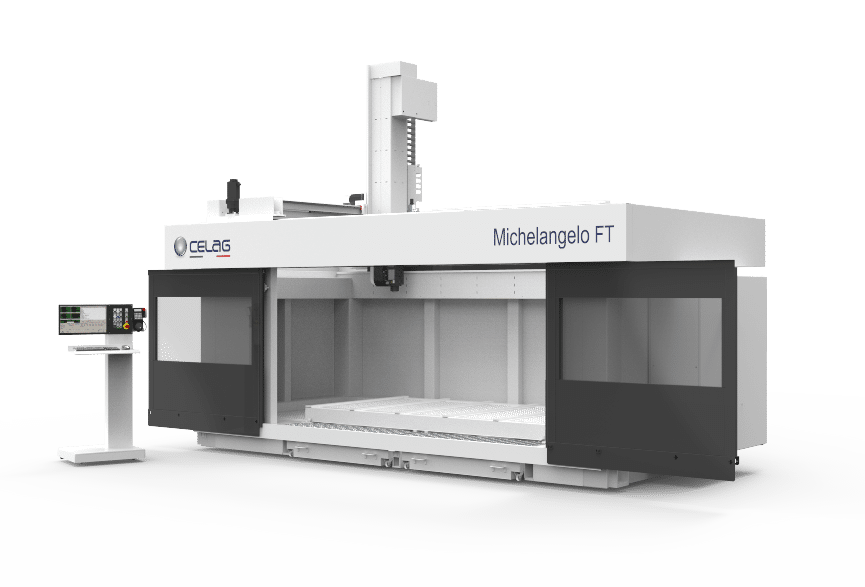 THE TOP OF 5-AXIS TECHNOLOGY
Built to operate at high speed and on the most complex three-dimensional shapes, thanks to the advanced structural design that allows to reduce vibrations to a minimum and to the large size of the work area, it is used in many sectors, from the trimming of plastic and composite materials milling of resin models and aluminum molds.
The Michelangelo FT machining center can be equipped with an extremely effective suction system to be able to deal with even the most difficult materials.
The Michelangelo FT work center can be equipped with a system of sky bellows that limit the escape of fumes, dust and shavings from the work area. In addition to preserving the machine mechanics, this application also helps to maintain a cleaner and healthier environment for the operator.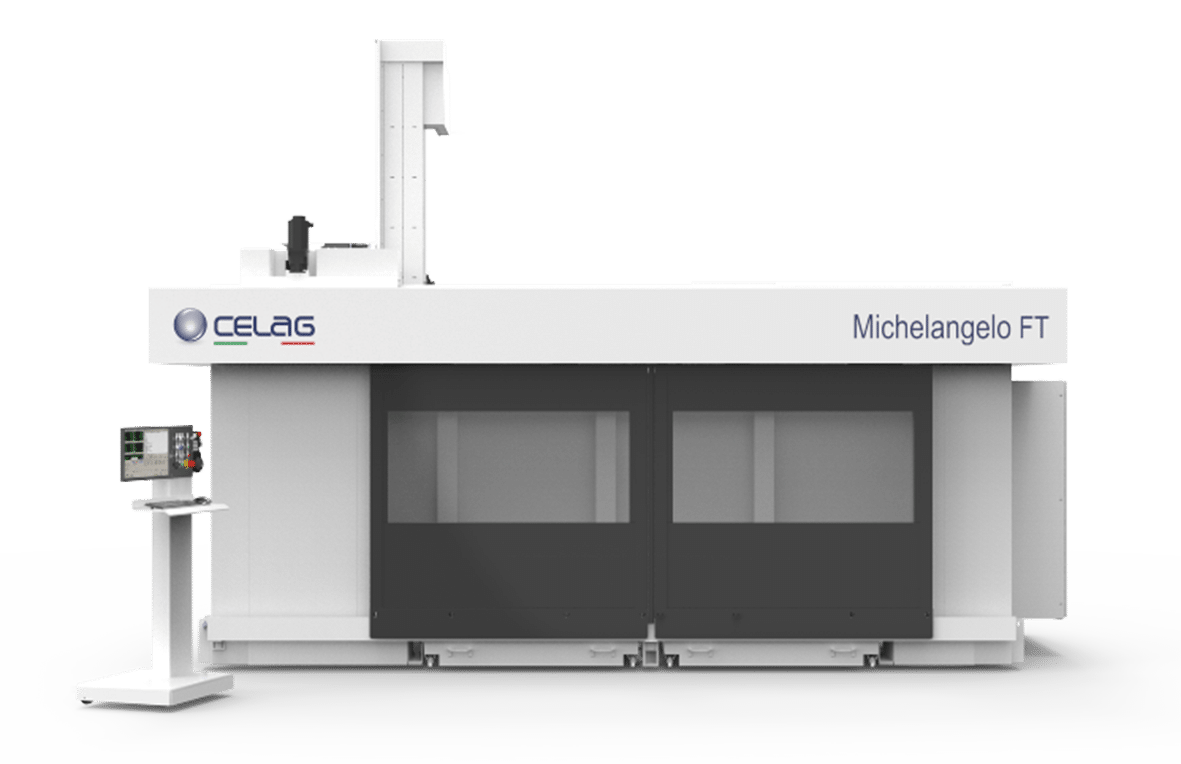 INDUSTRIAL APPLICATIONS
The 5-axis mechanical processes are used to make components and semi-finished products in different sectors, among which the most relevant are:
AUTOMOTIVE INDUSTRY: cnc in the automotive industry are used to make resin and aluminum molds, style models, trimming of plastic, carbon and composite components
MEDICAL INDUSTRY: cnc in the medical industry are used to cope with an increasingly high demand for processing dictated by the aging population that is playing an important role in the growth of the sector.
NAUTICAL INDUSTRY: cnc in the nautical industry are used to meet the most diverse needs that extend from shipbuilding to pleasure boats with the need to work on different types of materials; The machine tools will be used for processes that start from the modeling and trimming of hulls up to the smallest details in fiberglass and composite.
AEROSPACE INDUSTRY: the aerospace sector imposes severe requirements both in terms of material and complex shapes. CNCs in the aerospace industry are used for the machining of structural parts such as wings, bulkheads, trolley systems, engine parts and interior components using a wide range of high-tech complex materials and alloys ranging from titanium to carbon to aluminu.
DATA SHEET
Michelangelo FT

Electrospindles
Power  6/8 kW
Power  11/13 Kw
Axis range/ Working area (spindle nose)
X = 3400/4400/5400
Y = 1500/2500mm
Z = 1.200mm
A = ± 120 °
C = ± 220 °
Rapid Traverse
X-Y-Z = 80 m/min
B/C    = 75 °/sec
Tool ware-house
6 position travelling linear tool warehouse
12 position travelling linear tool warehouse
You might also be interested:
Michelangelo is a range of last generation 5-axis interpolating machining centres, designed to work the most advanced material; composites, special resins, plastics, aluminium, light alloys, wood.
The Michelangelo ML 5-axis machining center is the ideal solution for trimming plastic and composite materials, which thanks to its technical characteristics ensure high productivity and production quality.