Carbon processing: CNC machines for processing composite materials
CELAG designs and manufactures 5-axis cnc machining centers for the processing of composite materials and carbon fiber.
Advanced composite materials: structure and main applications
Composite materials are defined as all those heterogeneous materials consisting of several phases, each with different physical properties.
The phases that characterize a composite material are composed of different materials, as happens for epoxy resin composites or the same carbon fiber, or from the same material as happens for reinforced polypropylene.
STRUCTURE OF COMPOSITE MATERIALS
The materials that make up the phases of composite materials are called constituents and are called matrix or reinforcement based on the function they perform.
While the matrix is a continuous homogeneous phase which contains the reinforcement and guarantees cohesion, the reinforcement is a dispersed phase which guarantees mechanical resistance and rigidity to external loads.
These mechanical properties make composite materials perfect for use in contexts where maximum lightness is required.
MAIN APPLICATIONS
Advanced composite materials are required in various production sectors, from the aeronautical, naval and automotive industries, up to the aerospace and war industries. They make extensive use of it in the sports sector and in the medical field.
Carbon fiber composites: properties and advantages
The Carbon Fiber Composite is made by creating a woven structure of fibers, as if to create a "cloth" in carbon fabric which is then immersed inside a resin matrix.
This carbon fiber manufacturing process makes this particular composite material:
resistant to temperature changes;
resistant to chemicals;
Fire-retardant;
equipped with a marked mechanical resistance;
highly insulating.
COMPARING CARBON FIBERS AND GLASS FIBERS
Carbon fibers stand out compared to glass fibers for advantages and characteristics, in particular those in carbon have greater elasticity, a smaller volume and a low coefficient of thermal expansion.
These properties are favoring the diffusion of carbon fibers in particular in all those projects that require low weight, rigidity and strong dimensional stability.
DISCOVER THE MICHELANGELO LINE!
Our 5-axis cnc machining centers are designed to process the most advanced materials such as special resins, plastics, light alloys and composite materials.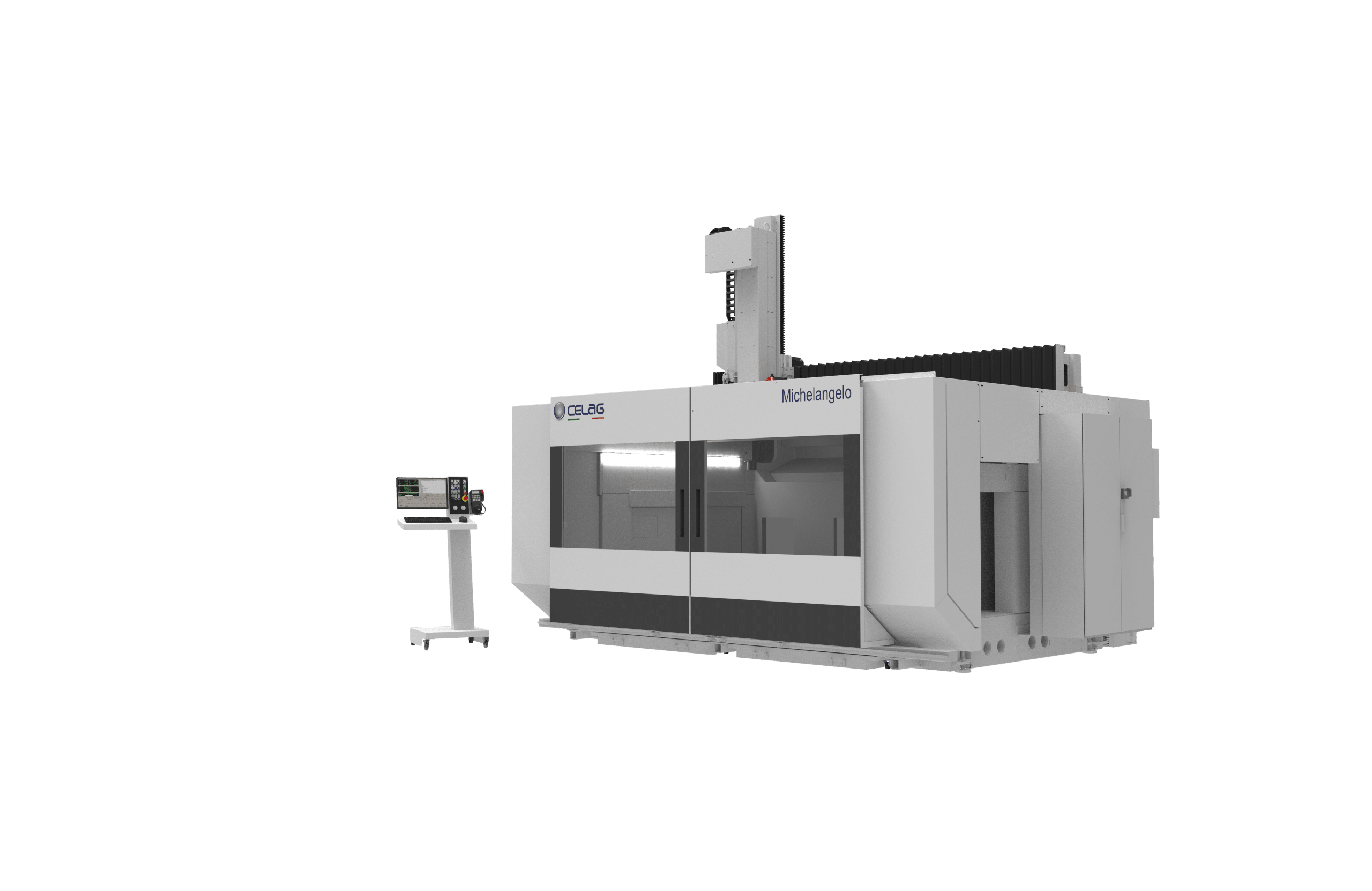 CNC CARBON MACHINES: CELAG'S PROPOSALS
The numerically controlled work centers allow you to perform any type of processing on carbon fiber composite materials and advanced composite materials.
CELAG's offer of cnc carbon machines provides solutions that can meet all the needs and requirements associated with the trimming, milling operations of components made of composite materials.
Our 5-axis cnc machining centers are designed to process the most advanced materials such as special resins, plastics, light alloys and composite materials.
Composite processing machines: focus on the cnc milling cutter for carbon
CELAG's range of 5-axis cnc machines for processing carbon fiber is the ideal solution for milling carbon fiber composite materials.
To facilitate the execution of more complex processes on carbon fiber composite materials, we have developed various configurations of the 5-axis cnc machines of the MICHELANGELO line.
Our cnc carbon cutters allow you to perform milling operations quickly thanks to the 5 axes of the numerical control machining center through a single initial technical set up
The CARBON PACK developed by CELAG, can be installed on the entire MICHELANGELO range and allows a better management of the powders generated by carbon milling; in addition to preserving the machine mechanics, this application contributes to maintaining a cleaner and healthier environment also for the operator.
CUSTOMIZATION in carbon cnc machines
The entire work area of the carbon cnc machines can be configured according to the specific needs of each customer.
The high customization of the 5-axis machining centers for the processing of carbon fiber guarantees its users maximum flexibility, both from a production and an operational point of view, allowing the milling of single and / or pendulum parts.
CELAG carbon cnc machines are also able to perform milling operations on pieces of medium and large composite materials intended mainly for the aerospace sector, the printing sector and the modeling sector.
Finally, the milling heads of the 5-axis machining centers for the processing of carbon fiber composites also allow a complete rotation of the C axis and large movements of the B axis thus promoting the execution of undercut machining.